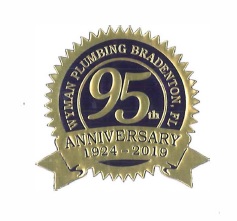 Wyman Plumbing has been a true fixture in the plumbing industry for this community for many years. 95 years in fact! This year we celebrate 95 years in Bradenton! What started out as a small service shop in 1924, has become one of the most established, well known plumbing companies in the Bradenton area!
The growth of the plumbing industry in America skyrocketed from 1929 to 1954. In 1920 only 1% of US homes had electricity and indoor plumbing. Herbert Hoover worked to change that by developing plumbing codes, many of which are still enforced today.  During that time period there were many options of plumbing materials from different colored toilets, bathtubs, sinks, to copper and steel pipes. Moen, still popular today, created a double-valve faucet. By the 1950's the use of stainless steel became more common when it came to plumbing materials. In the 1960's due to a shortage of copper after the war, plastic piping was introduced. Through it all, Wyman Plumbing has evolved, grown, and remained at the forefront of the plumbing industry in the Bradenton and Sarasota area.
Wyman Plumbing is proud of the reputation we have built over the last 95 years in Bradenton. We have been the proud recipient of numerous Bradenton Herald People's Choice Awards for both #1 Plumber and #1 Supply Store. We take pride in providing our community with the type of service, quality, and dependability you have come to expect from us.
We are so proud to have been serving southwest Florida for almost a century! We look forward to serving you all for many more years to come. Thank you to all of our loyal customers for trusting us, and letting us into your homes! Give us a call, we won't let you down!