Rinnai Tankless Water Heaters
Tankless water heaters work by only creating hot water when you need them. So there's no more running out of hot water when too many people need the shower, or if there's an appliance like a dishwasher or washing machine running.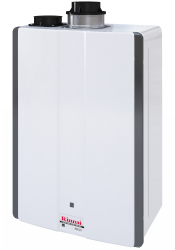 How they work is pretty simple, they run on-demand. Meaning when you want it, it's there. The cold water runs into the Rinnai Tankless Water Heater. Then it gets heated up as it goes through a heat exchange and runs through the plumbing system in your home and out to where the hot water is demanded.
Why Choose Tankless Hot Water Heaters
Many people choose tankless hot water heaters for different reasons, perhaps they're building a new home, or maybe their old one needed replacing, but there are many benefits of choosing a Rinnai Tankless Water Heater. See some below:
They provide an endless supply of hot water. Never run out of hot water again.
They take up less space than a regular tank water heater.
Because they don't take up much space, there are many options as to where to install them. They can be installed on interior or exterior walls, you're not limited to a utility room.
They come in either gas, or propane.
Rinnai Tankless Water Heaters use up to 40% less energy than a traditional tank, thus saving on both energy and water bills.
Rinnai Tankless Water Heaters are known for their quality. Their lifespan can be twice as long as their tank predecessors.
Wyman Plumbing offers installation and maintenance on tankless water heaters in Anna Maria, Holmes Beach, Bradenton Beach, Palmetto, Ellenton, Parrish, Sarasota, Lakewood Ranch and other communities throughout Manatee & North Sarasota Counties. Please contact us for more information.
Find a Rinnai Rebate here.