Tankless Water Heaters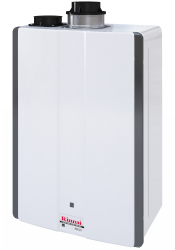 How much energy are you paying for just to have hot water available when you need it? How many times have you run out of hot water because you have the laundry washer running, dishwasher running, and two showers running? Running out of hot water while showering is quite a shocker and not a pleasant experience. Let that be a distant memory with a tankless water heater.
Never Run Out of Hot Water
Tankless water heaters keeps heating the water as long as you need it. So do the laundry, run the dishwasher, and take a shower knowing you won't have another cold water surprise.
Better Value than a Tank Water Heater
Save energy by heating it only when needed
Last up to twice as long as tank water heaters
Twice the warranty as tank water heaters
Takes Up Less Space with Tankless Water Heater
Tankless heaters are about the size of a suitcase and are mounted on the wall. These are perfect for tight spaces freeing up valuable living space.
Let Your Mind Rest at Ease
What happens if the bottom of your tank water heater rusts out? You have a large amount of water flooding your home potentially causing water damage. With tankless, there isn't a large amount of water stored that could flood your home.
Wyman Tankless Water Heaters
Wyman Plumbing carries both Rianni and Navien tankless water heaters. We install and maintain these heaters in Bradenton, Anna Maria, Holmes Beach, Bradenton Beach, Palmetto, Ellenton, Parrish, Sarasota, Lakewood Ranch and other communities throughout Manatee & North Sarasota Counties.