Water Heater Installation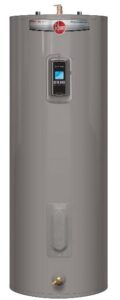 Wyman Plumbing is a hometown plumber, here for all of our residential and commercial customers in the Bradenton and Sarasota area with expert water heater installation.
We don't want you to wait for your water heater to break down. Here in Florida, our water is hard and it doesn't take long for sediment to build up, and cause a potential disaster to happen.
Water Heater Installation and Maintenance
At Wyman Pluming, we not only install water heaters, but we maintain water heaters, helping homeowners and business owners alike keep their water heaters lasting effectively and efficiently.
Call our office to discuss what type and size water heater will work best for your home or business.
Tank or Tankless Style Water Heaters
We carry electric water heaters, in both tank and tankless styles.
With our Rheem tank model, you can let your mind rest at ease, as there is a Leak Alarm, notifying you of any leak, inside or outside the tank.
You can also stay connected to your water heater with notifications on-the-go with their mobile app, EcoNet! Their WiFi connected technology, along with their mobile app, allows you the user to control the water system. This allows for energy saving water temperature settings, vacation settings, and system monitoring on the go while away from home! The water sensor alert even sends a notification to the app.
With our tankless styled heaters Rinnai and Navien, they run on demand, saving both water and electricity. Find a style that fits your lifestyle and let us know!
Wyman Plumbing offers installation and maintenance on both tank and tankless water heaters in Anna Maria, Holmes Beach, Bradenton Beach, Palmetto, Ellenton, Parrish, Sarasota, Lakewood Ranch and other communities throughout Manatee & North Sarasota Counties. Please contact us for more information.