Wyman Plumbing is a hometown plumber. We are not a national franchise company, and we do not flat rate and expect you to pay higher rates for the what "if's"! We strive to give our customers great service, quality products and parts at a reasonable rate. So when you need a plumber, you need Wyman!  See what some of our customers have had to say about their experience by reading Wyman Plumbing Reviews.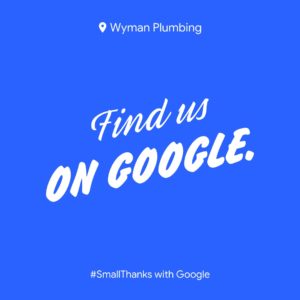 Wyman Plumbing Google Reviews, 4.6 out of 5 Stars with 14 Reviews
Called the company for a non-emergency & got worked into the schedule right away…Tony is the best!  This is a great company whom we will work with again and whom I unreservedly recommend to your plumbing needs. – Richard S
Day before Thanksgiving and my mom goes in to take a shower and the handle freezes in the on position. I quickly called Wyman Plumbing and they sent David out. He was here within 10 minutes and fixed the problem in no time. I am so very thankful for the service. – Cynthia E
We have used Wyman for a few years now and they are some of the nicest people to work with. They are efficient and super clean EVERY TIME. We highly recommend their services. – The Villetto Family
These and many other Google Reviews just like it for Wyman Plumbing can be found right here.
Wyman Plumbing Facebook Recommendations, 4 out 5 with 31 recommendations on Facebook.
My wife and I use Wyman plumbing for the last 20 years we would not think of using anyone else. – Michael G.
Clean, efficient, knowledgeable – Reenie L
Scott Bradford is the best man for the job! We love Wyman! – Japeth K.
These and many other Facebook Recommendations just like it for Wyman Plumbing can be found right here.