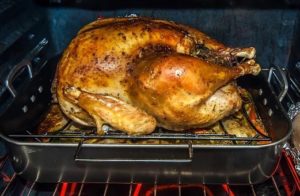 Plumbers get an influx of calls the day after thanksgiving. Black Friday turns into Brown Friday for plumbers. Because of that, we're sharing some of our helpful tips with you so you don't need to have a plumber as a guest on Thanksgiving.
Don't shove food down the drain and then turn the disposal on. It's a good idea to let the water run, then put food down the drain and allow time for the garbage disposal to do its job.
Foods that are stringy or fibrous such as potatoes, peas, and celery will be difficult for the garbage disposal to handle. They stick to the side and create a build-up. This also includes sticky food such as rice and pasta. Rather than put those down the drain, scrape them off the plate and into a small bag to save for composting.
Cooking a turkey will be sure to build up grease and oil. When poured down pipes, they stick to them and solidify over time. Pour out the grease into an empty jar or container and save it, rather than pouring it down the drain. Then the pot or pan can be placed into the sink or dishwasher for washing.
Sometimes an even better idea is to just scrape all the scraps into a bag, due to the sheer amount of dishes you'll be washing. With all the guests you're trying to spend time with, rather than spending time trying to decide what can and can't go down the drain, just put it all in a bag, and put the dishes in the sink or dishwasher and call it a day!
Do your guests a favor and save them some embarrassment by putting a plunger in each bathroom. It might also be a good idea to place a brush nearby to clean off any residue left behind.
We hope you and your families have a very happy and safe Thanksgiving. We also hope that everything runs smoothly!