Florida residents in the Sarasota and Bradenton area are always looking for ways to save money. Why not save money with a water heater. Will a tankless water heater save money for your home? Let's look at how a tankless water heater saves money.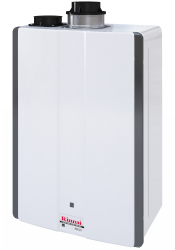 First of all, a tankless water heater doesn't take up much space. Therefore you don't need an extra closet, or designated space for a big unit. This is one way to save money on a water heater. It can fit in an existing closet, or even under a cabinet.
A tank, or traditional water heater holds 40 gallons of water, and keeps heating it throughout the day. Who needs hot water all day long? This in itself is wasteful. When homes use tankless water heaters, they're heated as the water comes into them, or on demand, saving precious water and money. This makes them much more efficient than their traditional counterparts.
Typically, established homes already have a regular 40 gallon tank type water heater in them, so there will be a cost if you're looking to upgrade to a tankless style heater. But if you're in need of replacing your water heater, why not move to a more efficient one when the upgrade happens?
There's a lot to think about when installing a water heater in your home. Wyman Plumbing has a team of experts here to help you make the best decision for you and your family. When choosing a water heater, it's important to think about how many people are in your household, how often hot water is used, and what an on demand system would mean for you. When you're ready to have that discussion, contact us to schedule an appointment! We have been serving Bradenton, Anna Maria, Holmes Beach, Bradenton Beach, Palmetto, Ellenton, Parrish, Sarasota, Lakewood Ranch and other communities throughout Manatee & North Sarasota Counties since 1924!