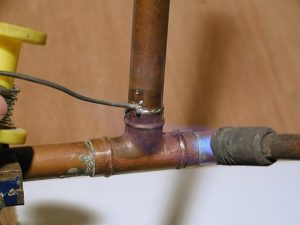 As a homeowner, one thing you might worry about is your plumbing. Will you need to re-pipe your home in Bradenton? Unfortunately the answer is yes, at some point you probably will. That depends on the type of piping you currently have, the age of your home and some other factors we will discuss.
Here are five signs that you will need to re-pipe your home.
Leaking Pipes
If you are constantly fixing leaking pipes, you could need new piping. Signs of leaking pipes can include low water pressure, water damage, a higher than normal water bill with no real explanation, mold or mildew smell or actual signs of mold or mildew.
Signs of Corrosion
If you have exposed piping, check for visible signs of corrosion. Visible signs of corroding pipes can include a bluish tint to copper pipes, pipes that are flaking or rusting away, any type of discoloration, dimpling or buckling of pipes.
Rust Colored Water
Check for rust colored water coming from appliances. Remember though, if you're using hot water, the cause of this could be your water heater, or if you have a well, this could be an issue with your water. But with regular water usage, if you're noticing rust colored water with both hot AND cold water, and you have iron or steel pipes, your pipes could need replacing.
Older Home
If your home is an older home, there's a good chance that your home is in need of repiping, unless your pipes are PVC pipes. If you have an older home with galvanized steel piping, they could contain lead, which is a health hazard, and they are also prone to corrosion, leaking, and clogging.
Polybutylene Pipes
This plumbing system was actually banned in the United States and has been subjected to class action lawsuits. These pipes are prone to decomposition or disintegration, and are distinguished by the letters "PB" on the white plastic pipes.
If you already have these signs and know that you need to re-pipe your home, just contact the experts at Wyman Plumbing. We'll be happy to send over a plumbing professional!