Are you looking to replace the water heater in your home? If so, it's important that you find the right size water heater for your home. You don't want one that is too big, or one that is too small. You need just the right size or you could end up spending too much money on your energy bill, or be left taking a cold shower, and you don't want either. So check out these tips to help you find the right size water heater for your home.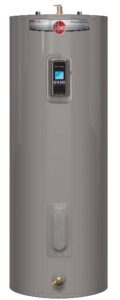 Household Size
The first item to consider when trying to find the right size water heater for your home is the size of your household. Typically the more people in your household, the bigger the water heater. If your family is made up of four to five people, you'll want a 50-60 gallon water heater. But there are other things to take into consideration.
Daily Habits
Daily habits are another thing to consider, but not only daily habits, but family habits too. Do the adults in the house work, are the children in school? Does everyone need a shower at the same time of the day? When do you do the laundry and dish washing? If these types of habits all happen around the same time, you could try to space them out a bit so the load isn't so heavy. It's also important to consider visitors. We all know everyone loves to come to Florida to visit. Is your family the type that entertains a lot?
Think about your current tank before you actually purchase a new hot water heater. Think about how your family uses water. Is it too big, are you wasting energy heating water that is never used? Or are you forever running out of hot water. If you are still wondering what to do, don't worry any more. Let the professionals here at Wyman Plumbing help you decide. Our professional plumbers can recommend the perfect hot water heater for you here in Bradenton. Contact us today!