When you remodel your kitchen and bathroom, they provide the most return on investment, so they are often the rooms home owners choose to remodel first. When you consider a tankless water when remodeling your bathroom and kitchen you're also choosing wisely due to increased energy costs right now. Not only for you, but for your potential home buyer if you're choosing to sell later down the road. Why? Let's see below.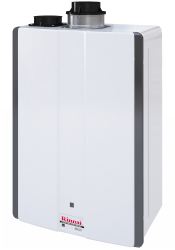 You should have a professional plumber helping with both your kitchen and bathroom remodel, so it only makes sense to update to a tankless water heater at the same time. Tankless water heaters work by heating the water as they pass through the pipes, which is why they are often considered to be "on demand" water heaters.
Because kitchens and bathrooms use the most hot water in our homes, these are the perfect locations, and time for the upgrade to the tankless style. You can even leave the older unit for other portions of your home such as the washer if you choose. See some of the benefits of the tankless style.
They take up less room, so they fit in smaller spaces such as a closet giving you more options of where you want them to be installed.
You'll never run out of hot water like you will with a tank system
They last longer because they don't have the chance to rust out like their tank counterparts
You're not wasting electricity by having it heat up constantly for no reason
Wyman Plumbing carries both Rianni and Navien tankless water heaters. We install and maintain these heaters in Bradenton, Anna Maria, Holmes Beach, Bradenton Beach, Palmetto, Ellenton, Parrish, Sarasota, Lakewood Ranch and other communities throughout Manatee & North Sarasota Counties. Contact us if you're considering remodeling your kitchen and bathroom, or are in the market for a new water heater. We can help you decide which model is best for your home.